What first time home buyer loans are available?
Home buyers today can choose from dozens of loan types. But more than 90 percent of buyers (including first-time home buyers) will end up using one of four popular loan programs.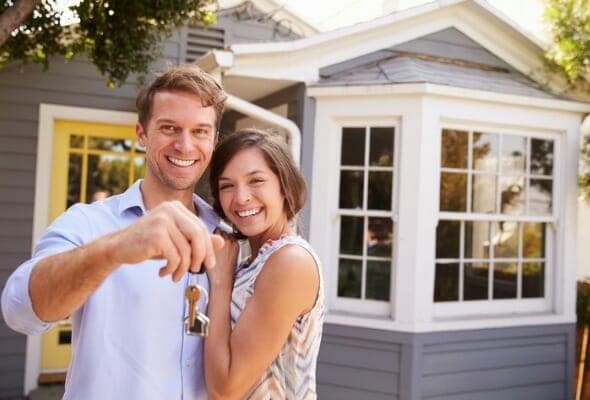 These are:
The conventional home loan
The Federal Housing Administration (FHA) home loan
The Department of Veterans Affairs (VA) home loan
The U.S. Department of Agriculture (USDA) home loan
These programs are popular because of their accessibility, low rates, and friendly terms.
Each one has unique benefits, depending on what you're looking for as a first-time home buyer (lower down payment, lower credit threshold, lower-income options, etc.)
Here's a brief overview of each one:
The conventional loan — 3% down payment
Conventional or "conforming" mortgage loans are what most home buyers think of when they think of home loans. The term "conforming" means these loans meet guidelines established by Fannie Mae and Freddie Mac.
Conforming mortgages are often the best choice for home buyers with good credit scores and a down payment of at least 10 percent.
However, three conforming mortgage options exist for buyers making a down payment of just 3 percent. They are:
Fannie Mae's HomeReady loan
Freddie Mac's HomePossible loan
The Conventional 97 home loan
HomeReady and HomePossible mortgages offer low down payments (starting at 3 percent) and flexible eligibility guidelines — especially for lower-income home buyers. They may even offer up to a $500 rebate to borrowers.
Conventional 97 mortgages offer no such discount but can be the most economical way to purchase a home with little money down (just 3 percent) — especially for buyers with extra-good credit.
Check your conventional loan eligibility (Jan 21st, 2021)
The FHA loan — 3.5% down payment
FHA loans are popular with borrowers who have smaller down payments and/or credit issues, which require extra underwriting flexibility.
The biggest appeal of the FHA loan is that buyers with below-average credit can get mortgage approved.
FHA loans allow buyers with credit scores as low as 580 with 3.5 percent down, and 500 with 10 percent down. However, low credit scores must not be the result of recent bad credit history.
FHA mortgage rates are often lower than conforming mortgage rates.
But because all FHA loans require mortgage insurance premiums (MIP), the overall cost of an FHA loan is sometimes higher.
FHA mortgage insurance costs are as follows:
Upfront Mortgage Insurance Premium (UFMIP) = 1.75% of the loan amount for recent FHA loans and refinances
Annual Mortgage Insurance Premium (MIP) = 0.85% of the loan amount most FHA loans and refinances
Note — FHA mortgage insurance usually lasts the life of the loan. But it can eventually be cancelled with a refinance once you've built equity in the home. So FHA mortgage insurance is not always "forever."
Check your FHA loan eligibility (Jan 21st, 2021)
The VA loan — 0% down payment
The VA loan is a great program, with benefits offered by no other loan. But you need to be associated with the military to be eligible.
Available to veterans and active members of the U.S. military, VA loans offer 100 percent financing, simplified loan approval standards, and access to the lowest mortgage rates available.
For the last two years, VA mortgage rates have consistently beat rates for all other common loan types. VA mortgage rates can be as much as 40 basis points (0.40 percent) lower than rates for a comparable conventional loan.
Check your VA loan eligibility (Jan 21st, 2021)
The USDA loan — 0% down payment
Available in rural areas and low-density suburbs, the USDA loan is another no-money-down mortgage you can use to finance a home.
The USDA loan offers lower mortgage rates, zero down payment, and cheaper mortgage insurance to borrowers with low to moderate income.
The only catch? The home has to be in a designated "rural" area according to USDA standards. That usually means it has to be located in a city with a population of less than 20,000.